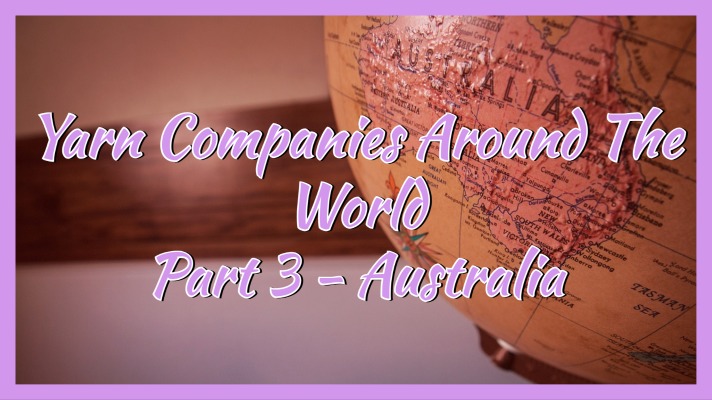 Continuing our journey around the world to explore and discover new yarn company, today we are turning "down under" to Australia and New Zealand. Now, it should come as no surprise to you that today's companies main products will be all about wool! Australia is one of the world's largest wool producers, producing around 25% of greasy wool sold on the world market. Wool is produced in all Australian states except the Northern Territory. New South Wales produces the greatest volume of wool, followed by Victoria, Western Australia and South Australia. Australia's climate, especially in the drier inland areas is ideal for fine wool production, and the Australian bred Merino sheep produces large quantities under these conditions.
Meanwhile, in New Zealand there are more sheep than people, approximately 6 sheep per person, to be specific. And that's just talking about sheep wool, before we even begin to discuss the local alpaca farms and the unique to New Zealand industry of possum yarn. Join me today as we dive into all of these interesting facts and discover local yarn companies, big and small.
 
Bendigo Woollen Mills
Bendigo Woollen Mills is Australia's largest hand knitting & crafting yarn mail order manufacturer, with a huge variety of different yarns and colours to choose from. Their strategy is to "cut the middle man" by supplying yarn directly to the public, via web (on their online shop), mail order, phone and factory shop. 
The company is located in the historic gold mining town of Bendigo in Central Victoria - north of Melbourne. That is where the yarns are being manufactured, and where all orders are shipped from to the rest of Australia as well as worldwide.
The yarn collection includes a large verity of fibers - Alpaca, Mohair, Silk, Milk fiber, Bamboo and Cotton alongside Australian wool sourced out of New South Wales.
To ensure the quality of the finished yarn, the dying process is done in hanks. A machine reels the yarn from the cone into a 2kg hank which is then ready to dye. Once the dying process is complete, the yarn is slowly dried, spun back onto a cone, and from there it is loaded into the balling machine, to be turned into various size yarn balls.
It is very interesting to see how this company operates, given that the majority of its sales is based on online purchasing. The main draw of Bendigo Woollen Mills is that they make solid quality yarn which, in local Australian terms, is also very affordable. They maintain a large online presence on social media to interact with their costumers and get constant feedback, which is then used and applied to better their product and fit it to the needs and wishes of their audience. 
If you do want to get a more personal feel of the company and its products, and you happen to be in the area, you can visit their factory shop and even take a tour of the factory and see the magic happen with your own eyes...
Outlaw Yarn
This young company has only been around since 2015, but has already gathered quite an enthusiastic and loyal crowd. ​Outlaw Yarn is committed to keeping yarn production local, being based in New Zealand, all their yarns include locally sourced wool. 
The brand stands for quality yarn at reasonable prices and a variety of colors. In addition, they are an eco-friendly company, committed to being sustainable in their production process. But that is not all, in its base, the company has a very important message to their costumers and the world - celebrate who you are, be your wild and crazy best self, whatever that looks like for you. Their message is spread not only through their yarn collection, but also on the company's social media. They aspire to create not only a costumer base, but a community. They run a YouTube channel, where you can join their live chats and talk to them about whatever you want, and also have a large Instagram and Facebook presence as well as a Ravelry group with an active forum. 
The yarns themselves, as mentioned, are all wool and wool blends in vibrant colors and a selection of yarn weights. In coherence with their philosophy, the yarn collections are named "Rebel", "Bandit" and- "Bohemia". You can find the whole collection on the website, where you will also find information about classes and events they hold at their HQ. They offer international shipping to every corner of the globe, so that rule breakers, adventurers, explorers, and innovators everywhere can get their hands on their yarns and rock the world with it!
The Australian Yarn Company (Australian Country Spinners - ACS)
The Australian Country Spinners, or ACS, is the result of a merger between some of Australia's larger mills. This is, if you will, the Australian version of "Yarnspirations". Under the company's roof, you will find four major brands: Cleckheaton, Panda, Patons and Shepherd.
Cleckheaton began its history in 1948, when an Australian knitwear manufacturer travelled to Yorkshire, England to purchase fine, pure wool worsted yarn, which had been in continual short supply in Australia at the time. He ended up buying more than just yarn, he bought the entire worsted spinning mill - Cleckheaton (Yorkshire) Ltd. A year later, the factory, together with managers and mill hands, was transported 20,000 kilometers to Shepparton, Victoria in Australia. Since then, Cleckheaton justly earned the status and position of a premium quality brand that has established a loyal following not only in Australia and New Zealand but in markets all over the world.
Panda Yarns began in 1963 as an importer of fashion hand-knitting yarns but gradually shifted to supplying high-volume markets with basic synthetic yarns. By the late 1980's Panda had grown to be the largest supplier of hand-knitting yarn in Australia, concentrating mainly on locally-produced yarns. Today, Panda has a range of yarns from basic to fancy, that offer quality at a good price with a vast choice of color, texture and fibers. They are your everyday go-to yarn manufacturer. In their collection you will find everything you would expect from a big yarn company of its caliber. Panda's current range of products and pattern designs are distributed widely throughout Australia and New Zealand, but currently not internationally.
Patons established itself in Australia with its first mill built in Tasmania in 1923. For decades, it was the leading yarn brand in the continent,  but due to the market conditions in the mid 1980's, Patons felt the decline, and eventually was acquired by ACS in 2000. Once acquired, the icon brand found a new and exciting home and once again emerged to be the fashion leader of hand knitting yarn in the region.
Shepherd was incorporated into ACS in 2000, and has since grown in status in Australia as well as a number of export markets. Prior to 2000, Shepherd yarns were produced by Alliance Textiles in New Zealand. The brand has a proud history of supplying high quality yarns in New Zealand and abroad, going back 40 years. Their range of yarns and design publications focus on babies to young children, with a strong emphasis on merino wool and other natural fibers.
With this verity of brands and a vast selection of yarns of all kinds and for every purpose, the ACS dominates the majority of the local market. In addition, by exporting a part of the collection to other parts of the world, the ACS is probably the largest Australian manufacturer sold on international markets.
Wagtail Yarns
Wagtail Yarns is a small local family business, manufacturing mohair yarns and cords. This is a single origin company - the mohair is grown, produced, cleaned, processed and dyed all in the same place. Single Origin means they control all aspects of production ensuring quality, environmental sustainability, and ethical production.  
Mohair is a fiber produced by the Angora Goat. Since 1979, when the first Angora goat was purchased, the family passion for Angora goats has carried on through to the present day, with almost 2,000 goats reared and cared for at Wagtail Yarns farm. The farm is also a mulesing free farm, and the goats (along with all other animals on the farm) are kept in the best conditions, ensuring they are well fed, have clean water and grounds and that they don't suffer from any parasites.
The yarns themselves come in a large selection of vibrant colors in a weight range from lace to worsted weight and are suitable for either knit, crochet or weaving projects. 
Want to get your hands on some Australian mohair of the highest quality? You can find the entire current collection of yarns on the Wagtail Yarns website. If you want to get a feel of the life on an angora goat farm, you can even check out their jobs section and become a company employee! 
Zealana 
Zealana is a brand of ultra soft, light, warm and durable luxury hand knitting yarns from New Zealand. It is a leading yarn innovator dedicated to elevating New Zealand's already superior, natural fibers with the exceptional properties of New Zealand Brushtail Possum fiber.
Since its introduction to New Zealand by fur traders in the late 19th century, the non-native brushtail possum population has reached staggering proportions largely due to the lack of natural predators that would otherwise maintain an ecological balance. The consequences of their rapidly increasing numbers are many, including damaging impacts on New Zealand's native flora and fauna. Zealana is one of the few licensed companies committed to the responsible management of the brushtail possum population in New Zealand, ensuring environmental sustainability.
Combining cashmere, merino and brushtail possum fibers, Zealana yarns are something truly extraordinary. Their yarn is amazingly soft, durable, pill-resistant, light and warm. The ever growing collection includes interesting and unique fiber blends in a great selection of colors. 
This high-end luxury brand is 100% made in New Zealand but is available for purchase all over the world in selected local yarn shops as well as online. A complete list of stockists can be found on the company's website, where you can also learn more about the importance of the Brushtail Possum population management in New Zealand and the impact on the local environment.
Great Ocean Road Woolen Mills
The Great Ocean Road Woollen Mill is located on a 20-acre property near Timboon, a small rural town in Western Victoria. It is fully owned and operated by husband and wife team Nick and Isabel, who farm their own herd of alpacas. Nick and Isabel are passionate about Australian-made products that are both ethical and sustainable, and hold themselves to this measure. All products are made on site, from Australian merino and alpaca wool, they use no artificial fiber at all. They also believe in competitive and realistic pricing for their unique range of yarns and garments to allow everyone to enjoy these beautiful products.
The mill and farm do not have access to a town water supply and use rainwater for washing the wool and yarn. Recycled rainwater from this process is used to water the farm's organic orchard. In addition, both the farm and mill are 95% operated using solar power for electricity.
Their product is classified as high-end artisan alpaca wool yarn. Alpaca wool is known for being hypoallergenic and suitable for wearing close to the skin, even by those who are unable to wear other wool products. Another advantage of alpaca yarn is that there is a very large range of natural colors of it, without the need to dye the yarn at all, reducing the amount processing the material has to go through on its way to the consumer.