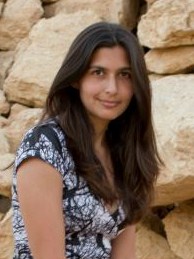 My name is Regev Jöken, but everyone calls me Reggie, and you can too!
I was born in Israel and grew up in a small Kibbutz in the south, very close to both Egyptian and Jordanian border. My love for fiber arts began quite early, and I used to doodle different designs and patterns on the back of my school notebooks (while I was actually supposed o be listening to the teacher). From a very young age I used to sit next to my Grandmother and watch her as she knitted different items, until finally, when I was old enough, she started teaching me to knit. Since then I have advanced, learned to crochet and loom-knit, to read and write patterns and design my own pieces.
In 2012 I moved to Germany, and have been living here since. When I was pregnant with my first son, I started knitting, crocheting and designing baby items for him, a talent which I polished and perfected with the birth of my second son. Now I create different patterns for all sizes - from newborns to adults.
In 2019 I started my own YouTube channel, where I do tutorials for my own designs as well as reviews of different fiber arts related products. Also on my channel, you can find plenty of information about fiber, yarn, where to get them and how to properly use them in your crafts. I'm an enthusiastic supporter of fibers and products which are friendly to the environment, and have become quite the expert on vegan, recycled and biodegradable yarns. Many of the information on my channel is related to those subjects. My latest venture is the "Yarniversity" series, where I aim to educate knitters and crocheters on Fiber-Arts related subjects of different kinds. To go along with the series, I started this blog in a hopes to reach a larger audience of like minded people, who wish to enrich their knowledge of all yarny things.