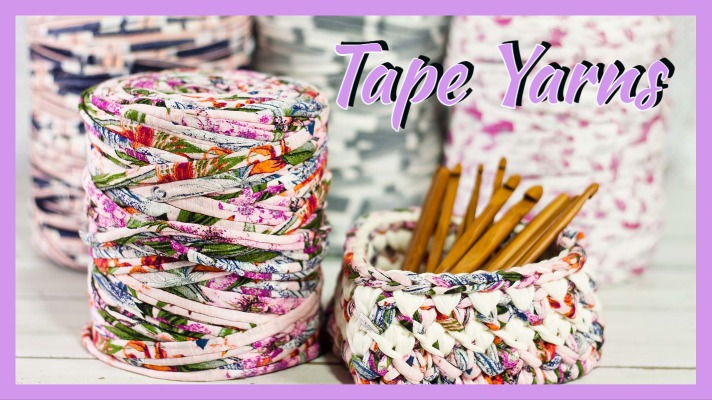 I love trying out different types of yarn; looking at yarn with a special or unique texture and coming up with ideas as to what I can make with it is something I enjoy very much. Due to this special hobby of mine, I get asked very often for ideas as to what to make with a certain yarn. People know that I most likely have already spent some time researching the matter...
Today, I want to share with you my knowledge, tips and ideas for using tape yarns - often also referred to as ribbon yarns. 

Construction
The first thing you notice about this sort of yarns is, of course, their construction. They are not round-shaped like most yarns, but rather have a flat construction, like a tape or ribbon - hence their name - Tape Yarn. The special shape of these yarns allows you to create special textures, which can't be achieved with regular round shaped yarns. 
The flat construction is often created by weaving the strands or knitting them into a tube shape using special machines. The tube is then flattened to achieve the ribbon-like construction. Due to this special construction, most tape yarns will appear to be chunkier and also heavier. You will most likely get less length per 100g than you would with other types of yarn. In addition, their unique construction makes them stretch more than other yarns and gives them more flexibility.

Materials
Most tape yarns are made of plant-based fibers and their blends, but as this unique shaped yarn is getting more and more popular, we begin to see versions of it containing different wools as well. Recently, many yarn companies blend nylon or polyamide into their tape yarns, to give them some more stretch and durability.
Tape yarns are often made from recycled materials, the most known and popular of which being the T-Shirt yarn. While this yarn started as a crafter's way to repurpose old T-Shirts, it has now grown to be its own genre in the fiber arts world. Big yarn companies jumped on the wave and are now producing their own recycled T-Shirt yarns in many colors and patterns.

What can you make with this yarn?
The possibilities are really endless. As mentioned before, tape yarns come in different thickness and made out of different materials. Based on the specific yarn you choose, you can make anything from wearables to home décor. 

1. Summer Wearables
You can make great summer hats, tank tops and even light sweaters and cardigans using tape yarns. The ideal choice for this kind of items will be blends of cotton, bamboo, linen, tencel, silk, viscose and their likes. Some good examples for summer tape yarns are Tina Tape from Wool And The Gang, Washi from Katia, Alessia from Lana Grossa, Binario from ICE Yarns or Rewind from Lion Brand.
2. Bags 
This is the perfect use for thicker ribbon like yarns. Bags made of these yarns will be stiffer and won't require lining. You can make anything from small clutches to big shopper bags, draw string style bags or backpacks. Good examples for tape yarns suitable for bags are Ribbon from hobbii, RibbonXL from Hoooked, Recycled Metallic Ribbon from Painbox Yarn and Ribbon from Infinity Hearts.
3. Floor Mats
Floor mats made in T-Shirt yarn are very popular right now. They look great in a lounge area or reading room, in baby rooms and as bedside decorations. There are many patterns out there for mandala-style round floor mats as well as different textured square and even hexagonal ones. This would be the perfect choice for T-Shirt yarns such as Zpagetti from Hoooked, T-Shirt Yarn from ReTwisst, Dahlia from Infinity Hearts and Recycled T-Shirt from Paintbox Yarn.
4. Pot Plant holders and Baskets
These are both very popular project for those who like to work with tape yarns. Depending on the yarn you choose, they can be flexible or stiff and used at different parts of the house. These are also great items to make for craft fairs, as they are quick and easy to make, and can be used by anyone all year round. Fitting yarns would be Maker Home Dec from Bernat, Ribbon from Hobbii and Recycled Ribbon from Paintbox Yarn.
5. Home Décor
Some tape yarns can be very soft yet durable, which makes them perfect for projects such as pillow covers and lounge blankets. Due to the flat construction of the yarns, interesting texture can be achieved with using just the most basic stitches. Ideal yarns for such items would be Fettuccine from BettaKnit, Cotton Jersey from Schachenmayr, Re-Tape Craft from Katia, Upcycled Fabric 600 from ICE Yarns and Viscose Shine, also from ICE Yarns.
6. Accessories 
A great way to try out different types of tape yarns is by making them into small accessories such as belts, hair accessories and jewelry. Tape yarns can make for great necklaces and statement earrings. Ladder type tape yarns make wonderful scarves with a lot of texture - flashy and eye catching! Good choices would be Ladder from ICE Yarns, Gingham from Berroco, Japanese Ladder Tape Yarn from ORA and Sari Silk Ribbon from Darn Good Yarn.