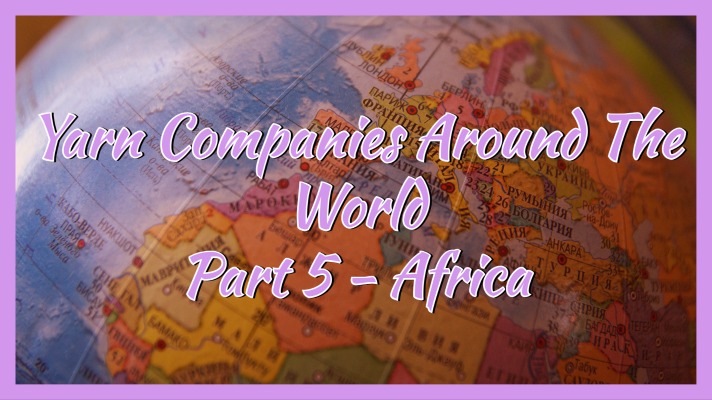 Over the past few weeks, we travelled all around the globe to explore and get to know different yarn companies from other countries. To finish our journey, we arrive at our last continent - Africa. There aren't as many big yarn manufacturers here, but there are a few companies and small business worth mentioning. 
The most common fibers produced in the African textile industry are cotton, wool, raffia, silk, jute and flax. South Africa alone produces more than 50% of the world's mohair and 2% of the world's wool, the bulk of which is high-quality merino wool.
Cotton plays a significant role in the economy of sub-Saharan Africa, yet hardly 15% of the cotton grown in the region is processed locally - the bulk of it is exported as a basic commodity. There are many countries in Africa that currently grow and sell cotton. Six of them grow cotton under the label ''Cotton made by Africa'', which is one of the largest job producers as well, with 450,000 Africans working in the cotton business alone.
Finding companies which actually make and sell hand knitting yarns under their own label within Africa rather than just export it was hard, but I managed to find a few, which I thought would be interesting to talk about, and I hope you will find them interesting as well.
MoYa
MoYa Yarn was created by mother-daughter team Martine and Hester six years ago. They started the business out of their garage, without any previous knowledge of yarn dyeing. With time, they perfected their process, which is still all done by hand by them and their supporting team. 
The company supplies a variety of 100% South African hand dyed yarns of cotton and bamboo bases. No two balls of their yarns are alike, there are nuances in the depth of color even in balls of the same dye lot. This makes the yarns themselves so special and, as a result, your finished crocheted or knitted item as well. Their collection isn't very big, but it is versatile with very vibrant colors. They make self-striping, semi-solids/tonal, solids and variegated yarns.
You can order their yarns directly from their website, where you can also find color packs, gift ideas and a lot of very creative patterns. If you join their newsletter, you will also receive updates on sales and special deals, as well as information on their seasonal crochet-along. Or, you can follow their social media platforms and get inspired by their posts.
MoYa yarns are all of high quality and sell for very comfortable prices, which makes them very popular. Other than in South Africa itself, you can find their yarns in local yarn shops in other African countries as well as Europe, Australia, New Zealand and Canada. 
Robin (Spin-Knit Limited)
Spin-Knit Limited is the leading Textile manufacturer in Kenya. The company was established in 1983 and has since been manufacturing 100% Acrylic hand knitting yarn, machine knitting yarn, knitwear and more. Their yarns are sold under the brand Robin, which is known to be a good value for money sort of brand. 
Their yarn collection only includes three types of yarn -4ply, chunky and 4ply fancy - all are 100% acrylic yarns, which is what the company specializes at. Each of the three types is available in a large range of colors, to suite every need of their costumers. 
The company is committed to ensuring its product quality and complies with international quality management standards as well as specifications by the Kenya Bureau of Standards. 
It is interesting, that a company chooses to focus only on acrylic fiber. However, the use of acrylic fiber alone is what makes their products so affordable. The price of their yarns is very cheap, which probably makes them very popular locally.
I couldn't find definitive information about whether or not they export their products anywhere outside of Kenya, but I'm sure if they do, they are the kind of yarns you will find at the bargain shelves. 
Despite being the leading textile company in Kenya, there isn't much online presence for Robin Yarns or Spin-Knit Limited. They don't have an online store front, and although they do have accounts on all the major social media websites, none of them is very active, which leads me to believe they are not really interested, or perhaps simply have no need to communicate with their costumers.
Image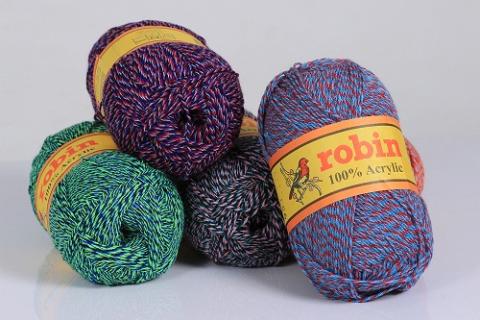 Nurturing Fibers
Nurturing Fibers is an Indie dyeing label based in South Africa, which started as a small home business back in 2003. The owner of the label actually did not mean to start her own business, she was merely looking to create the colors she wishes to have for her own knitting projects. However, her dive into dyeing yarn soon became more than just a small hobby, and she found herself dyeing more yarn than she can use. She then began selling to friends and to local yarn shops, until eventually her business has grown into what it is today.
The Nurturing Fibers dye house was designed to run with the lowest possible environmental impact - they use solar power to heat the water for dyeing and only top up the temperature if need be. The water is also gravity fed instead of being pumped. Yarns are dried naturally either in the sunshine or over the stove, and all skeining and balling is done manually. The water used to soak the skeins in preparation for dyeing is recycled and used to irrigate the staff Vegetable Garden. All other water used in the dyeing process is PH balanced and then used to irrigate the 120 Olive trees on the property. Washing of equipment and yarn is done with Borehole water. As this water is sourced on the farm, it has a much lower environmental impact compared to other water sources. The fibers used by Nurturing Fibers are all 100% locally sourced and mulesing free.
Today you can find their yarns in local yarn stores and speciality stores all over the world, and even in some online yarn shops. Their eco-friendly collection is very popular among the environmentally conscious maker community, and they have created a large and loyal costumer pool. The company was featured in numerous magazines and has made quite a name for itself in creating a beautiful and versatile collection that is a joy to work with.
Bright
Bright is an Egyptian company that offers various collections of hand knitting yarns & threads. They have a variety of products, produced with high quality dyes and manufactured according to OEKO-TEX certificate standards.
The company's best seller and crown jewel is, of course, Egyptian cotton yarns, which they offer in a large range of colors and different weights. They also produce Acrylic, Jute and T-shirt yarns, as well as a variety of embroidery threads, sewing threads and macrame cords. 
According to the company's website, their yarns are exported and can be found all over the world. However, in my search to find stockists that hold their yarns outside of Egypt, I sadly couldn't find anything. Since the majority of their online activity is in Arabic, I assume they may export to other Arab countries, but again - couldn't find definitive information as to which ones exactly. Another possibility is that they perhaps sell their yarns to other yarn labels, to be sold under their own brand, which is a very likely possibility judging by their wholesale catalogue. When trying to communicating with them to obtain more information about the products and their stockists I was directed to a WhatsApp number for questions. Since I don't normally communicate with yarn companies that way, I decided not to pursue the matter further, as it felt a bit "scam-ish".
I did, however, find a world of inspiration on both their Instagram and Facebook accounts. They have many pictures showing different items made out their yarns - crochet, knitting, embroidery and macrame are all featured in their galleries. You can see the large range of colors they offer and get ideas for different items to make from home decoration, to wearables and toys - it's all there. 
Cowgirlblues
Cowgirlblues is a Cape Town-based dye house and design studio specializing in South African wool and mohair. When founder Bridget Henderson returned to South Africa to live in Cape Town after years of working as a strategy consultant, she took up knitting and crafting as a means to cope with her extreme burnout. After getting frustrated at not being able to find suitable wool for a project locally, she decided to start spinning and dyeing her own, and so the idea for the Cowgirlblues brand was born. Having no formal training or background in working with textiles she did a lot of experimenting with texture, patterns and colors. The result of her efforts gave birth to this all-women business, creating beautifully hand-dyed yarn, which is 100% locally sourced.
From start to finish, the entire production line is man (well, actually women) operated. The yarns are skeined, dyed, washed and wound by hand. The team stands at the heart of the business, and many of them say that working at Cowgirlblues feels like being part of a family. One of the owner's priorities is to offer her team opportunities for continuous improvement.  Almost everyone is skilled in more than one aspect of the production process. It makes work more interesting for them if they can sometimes switch things up, and they stay motivated and engaged. While some aspects of their work are quite specific to dyeing yarns, by learning different things such as how to use a sewing machine or a computer the team builds skills that could be useful in a different work environment as well.  That is particularly important for these women in the society they live in.
The yarns themselves offer a large range of colors from tonals to multicolored and speckled. The dye work is of the highest quality, promising top results with every project. I you would like to try their yarns, you can either visit their open studio or head to their website and shop online. 
Rift Valley Yarn (Provisions Kenya)
Provisions was founded by sisters Nancy and Susie Kinyanjui, who are based in Nairobi, Kenya and share a passion for natural and useful finds. Together with their team at Provisions they are excited to offer artisan products, which are all sourced and created in Kenya. With a focus on family and building community, they believe that the best products are home grown.
Rift Valley Yarn is the flagship product of Provisions. It is handspun and hand dyed with natural plant sourced colors. It is 100% natural and eco-friendly yarn. The wool is seasonally sheared from sheep raised in the Rift Valley, as well as private farms on the foothills of Mount Kenya. It is then brought by the bale to Nairobi, where a cooperative of women do the admirable work of hand carding, spinning and dyeing it. The final product is the result of hard work and joint efforts of farmers and artisans.
The yarns are available in solid as well as variegated colors in several different yarn weights. The collection itself is limited, and not aimed towards large scale projects. This is more the sort of yarns you will buy because of the cause and story behind it, and not because you have a specific project in mind. However, if you do have a project in mind, the team at Provisions is more than happy to listen and assist you in any way they can.
If you happen to be in Kenya, you can take part in little events held at Provisions. They have knitting classes, sip and stitch meetups and special meet and greet with designers and makers. You can find a full calendar of upcoming events on their website.