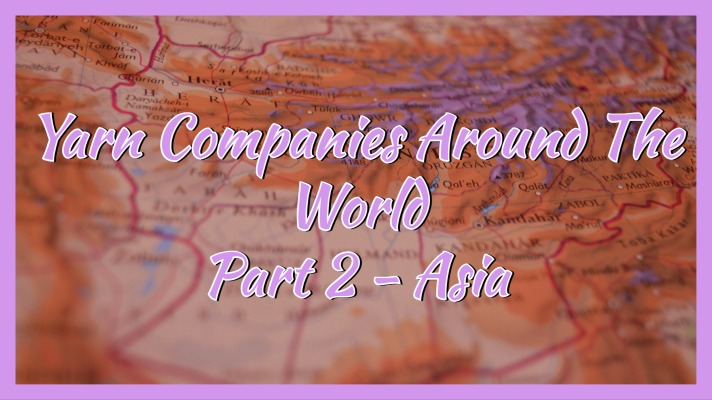 We continue on our journey around the world, to discover and learn about different yarn companies. This time we turn to Asia, home to a flourishing textile industry which is constantly on the rise. Fiber and raw materials for the world's yarn industry is being exported out of China and India and used by the some of the most famous brand names we know. In fact, India is the world's largest cotton producer. 
Most of the yarn manufactures in Asia distribute their products to be used under other brands. However, there are a few Asian yarn brands which are sold both locally in different Asian countries as well as internationally. In today's roundup of Asian yarn companies, I tried to include some brands which are known world-wide alongside ones which are more locally known. As always, I couldn't include them all, but I think you'll find the ones I chose to include to be the most interesting ones.
Noro 
Noro is possibly the most world-wide known Asian brand name when it comes to yarn. If you are European, American or Australian and I asked you to name an Asian yarn company you know, there is a very large chance that this would be the first name out of your mouth. The brand is located in Japan and carries the name of the founder, Eisaku Noro.
Noro is know mainly due to how different it is than other yarn brands - unlike most yarn companies, their yarns are partially spun by hand, rather than a completely automated production line. In addition, they are well known for their vivid colors and combinations of diverse fiber types. Some fiber combination in the Noro collection are not available from any other yarn company, due to a patented technology used by them alone.
The company is very dedicated to insuring an eco-friendly process. All animal fibers that are used in the yarns come from certified organic farms, and the dye processes is kept under strict restrictions to reduce waste and pollution. The aspiration is to use selected materials and deliver them to the customers without compromising their natural qualities.
Noro yarns are very unique and different than other yarns, which is one of the reasons that made them so popular all over the world. They are currently sold in over 30 countries and available world-wide through online stores with international shipping. In addition to the yarns themselves, you can also get your hands on one of the company's pattern and inspiration magazines, designed specifically for Noro's yarns and including designs which are like no other, full of color and imagination.
 
Vardhman
Vardhman Group was established in 1965 and is currently located in Punjab, India. The manufacturing facilities of the company today include over 1.1 million spindles and 600 tons per day of yarn production. They produce and sell yarns for other brands from around the world, as well as selling under their own brand inside India. 
Their yarn collection includes everything you would expect from a yarn company of their magnitude - anything from your everyday acrylic, to cotton, wool and wool blends, sock yarns, novelty yarns, baby yarns and much more. I addition, like any respectable mass-production company these days, Vardhman offers pattern booklets as well as maintaining a wide social media presence. You can find a few tutorials and some of their video commercials on their YouTube channel, and keep updated by following them on Facebook and Instagram. They also run knit and crochet along for charity and invite the participants to send in their creations to be donated.
 
Soul Wool
Now, this is not a big company, but rather a small independent business. However, it earned its rightful place in this list due to the amazing story which comes along with it.
Soul Wool is made in Karmiel, a city in the north region of Israel. It is made out of wool which is sourced out of New Zealand, from a farm where the sheep are brushed, not sheared. Once in Israel, the fiber is hand spun into yarn by Bedouin women, providing them with employments and a well needed income. The bare yarn is then dyed by the owner of Soul Wool, who hand dyes it in natural and traditional methods. The colors vary according to his mood and are often inspired by the Israeli nature and landscapes. The labeling is done by hand by disabled people, providing yet another source of income for those who need it the most. The entire business is dedicated to empowering and promoting weakened populations, which makes it true soul wool.
This might be a small business of a sort, but in buying yarn from Soul Wool you are actually contributing to a much higher cause. Whatever you end up making with this yarn, it would not only be pretty on the outside... Not sure what to make? Check out Soul Wool patterns on Ravelry!

ITO
ITO yarns are produced in Japan, a country with a long tradition in textiles. Their yarn collection consists of many different yarns and is complemented by knitting magazines and patterns. All yarns are distinguished for their special manufacturing process, extraordinary composition and unusual color palette or variety.
One thing that is very noticeable about ITO is their vast use of paper as an ingredient in their yarns. No less than five yarns in the company's collection are made from paper, which shows the high value of paper for textiles and garments in the Japanese culture. These yarns are partially handcrafted, and some are made of recycled materials – produced entirely by small family businesses in Japan. 
As to be expected from an Asian company, you will find a lot of cotton and silk blends in the collection. Alongside them, you can find fine Mongolian cashmere, mohair and alpaca blends - all of the highest quality. 
In addition to knitting yarns, the company also makes sewing and embroidery threads in a large verity of colors and compositions, as well as sell their own line of bamboo needles and crochet hooks alongside other notions.
Outside of Japan, you can find ITO yarns in local yarn shops in North America, Europe and Australia and a very small selection of stores in Singapore and China. Or you can order them online and have them shipped worldwide!
Ganga
Ganga Acrowools is based in India and manufactures yarns for hand as well as machine knitting in addition to weaving and carpet yarns. The company was funded over 60 years ago and has built quite a name for itself in India. 
Experience , Expertise & Innovation is not just the tag line - but in true sense the summary that describes the company. Constantly upgrading infrastructure , knowledge , training and skills of the employee team results in great products for the costumers. Their collection practically covers almost all segments of Machine and Hand knitting yarns – Fancy yarns , Multicolor yarns , Classical yarns , Fine counts , Coarse counts , Natural Blends , synthetic blends and so much more. 
You can pretty much find anything in their collection - all fibers, all yarn weights, every color and texture. They are your typical everyday yarns source, if you live in India. They introduced many firsts to the Indian yarn industry, learning from international Experience. They combine this experience with a focus on the best quality, bright and ultra soft yarns suitable for the Indian market. Some of these innovations include knotless yarn balls, big yarn balls with 200g and 300g in them, and yarns dyed in special techniques to create patterns (jacquard), which were all new to the Indian yarn industry.
Monaco 
The Monaco Manufacturing Corporation is a thread and yarn company based in the Philippines. Their main products are embroidery and crochet threads made mainly out of plant-based fibers such as natural and mercerized cotton . They do, however, have all kinds of acrylic yarns as well, mainly in DK weight.
The company's humble beginnings trace back to the year 1958, when it was established as a thread making company for bag closures. Since then, it has grown and developed into what it is today - one of the leading sewing thread manufacturing companies in the Philippines. The company also exports embroidery and sewing threads to various parts of the world. 
There aren't many local yarn manufacturers in the Philippines, many yarn lovers turn to imported yarns for their crafts. The difficulty to compete with big brands from abroad might be a threat for some, but Monaco is equipped with the latest modern machines, coupled with up-to-date well trained manpower resources ready to face the challenges of global competition. 
While their main products are aimed more towards the textile industry, they still maintain a line of products sold to the public in different local shops. Their cotton threads are very popular with local crocheters and their acrylic yarns are said to be good for both hand as well as machine knitting. 
Image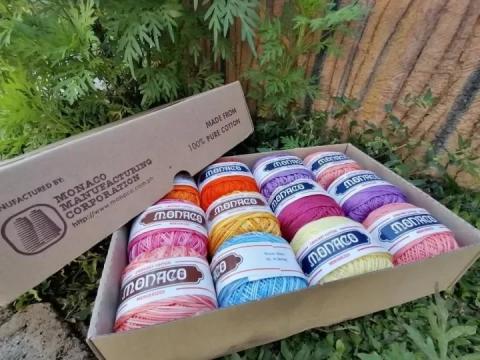 Pehorka (Пехорka)
The history of the company dates back to 1905, when the original factory was built by the Korzin brothers. It has since then evolved and changed owners a few times, but today it is one of the biggest manufacturers of hand knitting yarns in Russia. 
The company uses suppliers both from within Russia and internationally imported from other regions of the world. The finished products are distributed all over Russia and also to other parts of Asia as well as Europe, USA, Canada and Australia. In addition to their own home brand, the company also makes yarn and thread for other brands, to be sold under other labels. And so, even if you never tried their yarns knowingly, if you bought a yarn in your county from a local brand, and that yarn was made in Russia, it is very possible that it was made by Pehorka.
Pehorka also prides itself on having very affordable prices for all of its yarn collection, and even the more "fancy" yarns are on the lower end of the price range, in local terms. The company's product line is divided into several series - Winter, Summer, Luxury, Ecological, Creative, Children's and classic. These different lines cover a great range of yarns in all fiber compositions, texture, color and yarn weight. In short, there's pretty much something for everyone.