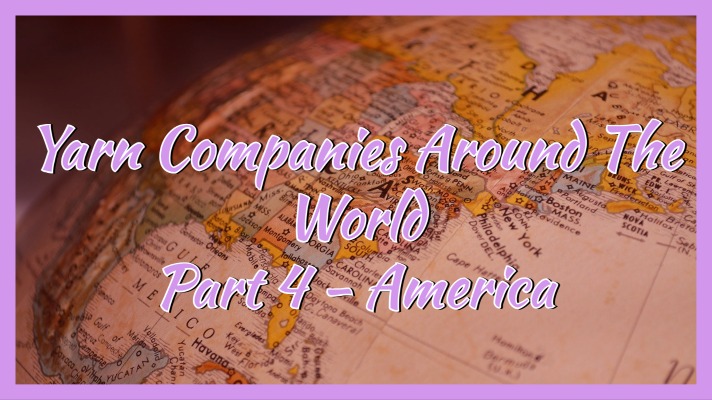 We continue on our journey around the world to discover and get to know new yarn companies, and this week we arrive at America! Now, when you say "America" many people tend to think about the US or Canada, but when it comes to yarn and fiber, the southern part of the continent has just as many exciting and interesting things to offer. The American continent stretches all the way from the north to south parts of the globe, giving us a huge variety of climates and terrains. From highlands, which are the ultimate growing grounds for Alpacas, Llamas and Vicunas, to warm and humid tropical climates, the perfect surrounding for cotton plantations. And then adding in all the different types of sheep wool and the vast industry of synthetic fibers, you get a richness in raw materials, which is like no other. Due to this richness, the American continent offers us a huge selection of yarn companies to choose from, and it has been harder than ever to narrow down today's list. I can not possibly include all the companies, and choosing the most interesting ones to mention was a long process, but I hope my final list will please you and perhaps introduce you to some companies you've never heard of before. 

Lion Brand
Lion Brand is a well established brand dating as far back as 1878. It is the oldest producer of knitting and craft yarn in the United States, based in Carlstadt, New Jersey. The company is a a fifth generation family owned business, and its yarns are sold both domestically in the US as well as internationally. Lion Brand's extensive and rich history has resulted in boundless experience and stability and has helped shape it into the fast moving and high energy company it is today. 
Although some of the company's yarns are made abroad and then imported and sold under the Lion Brand's name, a large portion of the collection is still produced in mills within the United States. Being involved in the local community is something the company puts a lot of effort into. They are involved in charity activities, run design competitions, support local business and creators and keep active contact with their costumers and followers on social media platforms of all kinds.
One of the reasons that makes Lion Brand so popular is the extensive yarn collection, which includes something for everyone. They create high-quality yarns of all kinds, textures, fibers, weights and colors. From everyday yarns to luxury, from natural fibers to wools to synthetic fibers - it's all there. Inside the US, you can also get your hands on their yarns almost everywhere - big box stores, discount stores, local yarn shops, speciality stores and online! Got the yarn and not sure what to make? Check out their patterns! They have both free as well as paid for patterns. Some of the top most esteemed designers in the world of fiber arts collaborate with Lion Brand on different projects as well as write for their blog an magazines, or take part in their YouTube videos or Facebook live shows.
Lion Brand is passionate about helping people enjoy the pleasures of working with yarn. Their mission statement is to spread warmth, comfort, and inspiration to the world by providing products and social engagement that promote the joy of knitting, crocheting, and weaving. With all they gave the fiber arts community since the company's first establishment, I think it is safe to say their mission is accomplished!
Vegan Yarn 
Vegan Yarn is a small, family owned business located in New Westminster, British Columbia, Canada. In their home studio, the hand dye yarn which, as the name suggests, are all vegan fiber yarns. Their aspiration is to offer high quality base yarn in a variety of cruelty-free, and sustainable fibers. They are committed to animal and human rights, environmental stewardship, and all of the ways that yarn can play a role in them.
Instead of maintaining permanent colorways, Vegan Yarn runs new colors in real-time, allowing for constant testing and innovation which is one of the owner's favorite parts of the dye process. The result is unique colorways, in a more limited edition format than ever. New color release happen spontaneously all year-round. The owners want to not only supply yarns to their costumers, but also have fun and find joy in their work, which is why they operate the way they do. They want to avoid getting bored of dyeing the same colorways over and over, which I think is very important. When the maker enjoys the making as much as the finished product, that's when the finished product is the best it can ever be.
In the current collection you can find tencel, cotton, linen and bamboo in different fiber combinations and yarn weights. They also sell fiber for spinners and hand dyed samples for those who want to only get a feel of what they're about. 
If you want to connect with the owners, you can join their Ravelry Group, or follow them on Instagram. To purchase their yarns, you can visit their website and enjoy world wide shipping, or visit one of the local yarn shops that stock their yarns to get an up-close-and-personal feel (check out this list of stockists). 
Malabrigo 
Malabrigo is a family owned yarn company located in Uruguay and Peru. Like any family business, it started small, when two brothers-in-law began dyeing wool in a kitchen pot back in 2005. After achieving good results, they started selling a few skeins to the US and, before they knew it, they had quickly grown to other countries in Europe and the rest of the world. To keep up with this growth, they needed to relocate to larger facilities and hire more employees. Currently, the production line is based in Peru, while the lab in charge of product development is in Uruguay. 
Most of malabrigo's yarns are made with 100% Uruguayan Merino wool, which is known worldwide for being of very high quality and extreme softness. The controversial practice of mulesing does not exist in Uruguay, which makes all of their yarns mulesing free. The collection also includes different wool blends and a new line of 100% Pima Cotton. 
Malabrigo is well known for a extensive range of vibrant colors they offer on all their different bases. From laceweight to super chunky, their yarn is a dream to knit and crochet with. Perfect for creating items you will treasure every time you wear.
In addition to producing high-quality hand dyed yarns, the company also produces much needed work places for the local population. They employ mostly women of all ages, and always try to give job opportunities to people that have fewer opportunities than the average individual. 
Today, you can find Malabrigo yarns in almost any respectable local yarn shop. On the company's website you can find a whole list of such stores. They are also sold online on a large variety of craft websites (LoveCrafts, for example) and you can even find them on Amazon.
Omega 
Omega is a thread and yarn company founded in Mexico in 1948. They manufacture threads, yarns and hand-knitting yarns of the highest quality and in a wide variety of colors and textures. This proud Mexican company has worked hard for over 70 years to offer a vast range of yarns for both the domestic handcraft market, as well as for the industrial market.
At the beginning, it was just a small family business, making cotton threads for sewing. With time, they developed into crochet thread and from there into the yarn industry. Hard work and dedication, along with the aspiration to learn and innovate, brought the company to where it is today - A leading brand in the local market.
They are your typical big brand yarn company, stocking any kind of yarns you might want for your everyday project. In Omega you can purchase the best threads and yarns of all colors, textures, fiber combinations and yarn weights. Whether it is knitting, crochet, embroidery or sewing that you're into, you can find your craft supplies in their collection, which includes over 250 different items.
Today Omega has more than eight hundred employees working in four different factories (all in Mexico). Their products are sold both domestically as well as being exported to the United States, Latin America and Europe. Thanks to the excellent work of all those who make it up and the loyalty of its customers, Omega is a symbol of quality in Mexico and the world.
Berroco
Berroco is a well respected brand, established in the United States back in 1905 by Stanley Wheelock. At first, it was called Stanley Woolen Mills, after its founder. The firm survived the Great Depression, two world wars and weathered the changing times and demands in the world of textiles, until eventually, In 1968, the Wheelock family formed a new handknitting subsidiary. The company was given a new name - Stanley Berroco, which remained the official name for about 20 years. Eventually, the name "Stanly" was dropped, and the company has been selling yarns under the brand "Berroco" ever since. 
They slowly integrated imported yarns into their locally made collection and with time, become one of the largest importers and wholesalers of handknitting yarns, patterns and supplies in the United States and Canada. Its range of specialty yarns are imported from countries around the world, including the United Kingdom, Switzerland, Germany, France, Italy, Turkey, Romania, Brazil and Peru. You can find their yarns in yarn shops all over the world as well as online, and keep updated on the latest developments by following them on social media or subscribing to their newsletter.
Today, Berroco operates out of North Smithfield, Rhode Island and continues the family tradition, providing quality textiles by continually adapting to the changing needs of the times. It is still run by the Wheelock family, as it always has been for 6 generations. They maintain their dedication to product quality, creating beautiful yarns of all kinds, making sure you enjoy a world of difference with their products in your next project.
Manos Del Uruguay 
Manos del Uruguay is a special brand of hand spun & dyed artisan yarns that supports rural Uruguayan women since 1968.  Manos is a non-profit organization that was founded to give women jobs, allowing them to be independent and to support their families while still being able to live in their home villages. It is divided into twelve cooperatives, each one is a workshop located in a small village of Uruguay's countryside. The artisans are the owners of the company and the profits are shared among the cooperatives or re-invested in the organization. The cooperatives have strong bonds with the communities where they are inserted, having a positive impact on the society and families in it.
The yarn is hand spun with high quality fibers & dyed by hand into gorgeous colorways that reflect the rich landscape and culture of Uruguay. The colors are bright and wild, full of nuances and variations. No two skeins are the same, each one is unique, a testimony of a particular moment. In addition, each of the skeins is labeled with a tag with the artisan signature and the name of the village where the cooperative is located. This helps the buyer remember that behind each product there is a woman, a story. Every piece is an opportunity to help an Uruguayan woman support her family.
Manos is focused on yarns that are sustainable, ethical & beautiful. The company is a member of the World Fair Trade Organization; recognized for their socially sustainable work. Fair Trade is a trading partnership, based on dialogue, transparency and respect, that seeks greater equity in international trade. As a Fair Trade organization, Manos is engaged in supporting producers, raising awareness and in campaigning for changes in the rules and practice of international trade.
Manos del Uruguay high quality standards have granted it international recognition. Their products are demanded by high end brands such as Polo Ralph Lauren, Marc Jacobs, Ulla Johnson, Stella McCartney and many others. Collaborating with these brands challenges the company to be in constant evolution, resulting in wonderful new products which are ever inspiring.